I Have Achieved So Many of My Goals in Sports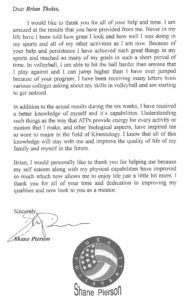 Dear Brian Theiss,
I would like to thank you for all of your help and time. I am amazed at the results that you have provided from me. Never in my life have I been told how great I look and how well I was doing in my sports and all of my other activities as I am now. Because of your help and persistence I have achieved such great things in my sports and reached so many of my goals in such a short period of time. In volleyball, I am able to hit the ball harder than anyone that I play against and I can jump higher than I have ever jumped because of your training program. I have been receiving many letters from various colleges asking about my skills in volleyball and am starting to get noticed.
In addition to the actual results during the six week training program, I have received a better knowledge of myself and my capabilities. Understanding such things as the way that ATPs provide energy for every activity or motion that I make, and other biological aspects, have inspired me to want to major in the field of Kinesiology. I know that all of this knowledge will stay with me and improve the quality of life of my family and myself in the future.
Brian, I would personally like to thank you for helping me because my self esteem along with my physical capabilities have improved so much which now allows me to enjoy life just a little bit more. I thank you for all of your time and dedication to improving my qualities and now look to you as a mentor.
Sincerely,
Shane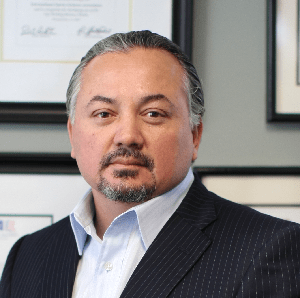 Brian K. Theiss is an innovator and thought leader in the area of performance fitness. He has been an internationally awarded Executive Health and Wellness Consultant since 1987. He has the distinction of being the very first Certified Fitness Trainer by the International Sports Science Association (ISSA).
Brian has trained numerous Fortune 500 executives, professional and elite athletes, and high-profile entertainers. When empowering life's possibilities, Brian is the go-to choice for the highest performance results.
In 2016, the ISSA again recognized Theiss, as the #1 Executive Health and Wellness Consultant among 250,000 fitness and wellness professionals in 93 countries. It is this consistent recognition of the TheissCare method that brings clients to TheissCare, LLC from around the world.
https://theiss.care/wp-content/uploads/2017/09/Theiss-Testimonial-scaled.jpg
2560
1627
Brian K. Theiss, AA, CFT, MSF, FNBEFE, ISSA PAC
https://theiss.care/wp-content/uploads/2020/02/theisscare-empowering-logo-header-2-300x138.png
Brian K. Theiss, AA, CFT, MSF, FNBEFE, ISSA PAC
2017-09-26 19:25:53
2020-02-26 18:34:27
I Have Achieved So Many of My Goals in Sports