60 Day Executive Fitness Program Changed Our Lives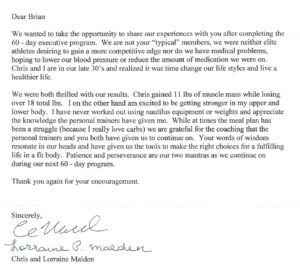 Dear Brian
We wanted to take the opportunity to share our experiences with you after completing the 60 – day executive program.
Time to Change Our Lifestyle
We are not your "typical" members, we were neither elite athletes desiring to gain a more competitive edge nor do we have medical problems, hoping to lower our blood pressure or reduce the amount of medication we were on.
Chris and I are in our late 30's and realized it was time change our lifestyle and live a healthier life.
The Results Were Incredible
We were both thrilled with our results. Chris gained 11 lbs of muscle mass while losing over 18 total lbs.
I on the other hand am excited to be getting stronger in my upper and lower body. I have never worked out using nautilus equipment or weights and appreciate the knowledge the personal trainers have given me.
While at times the meal plan has been a struggle (because I really love carbs) we are grateful for the coaching that the personal trainers and you both have given us to continue on.
A Fulfilling Life in a Fit Body
Your words of wisdom resonate in our heads and have given us the tools to make the right choices for a fulfilling life in a fit body. Patience and perseverance are our two mantras as we continue on during our next 60 – day executive program.
Thank you again for your encouragement.
Sincerely,
Chris and Lorraine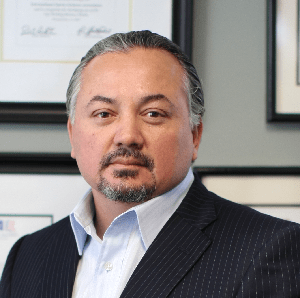 Brian K. Theiss is an innovator and thought leader in the area of performance fitness. He has been an internationally awarded Executive Health and Wellness Consultant since 1987. He has the distinction of being the very first Certified Fitness Trainer by the International Sports Science Association (ISSA).
Brian has trained numerous Fortune 500 executives, professional and elite athletes, and high-profile entertainers. When empowering life's possibilities, Brian is the go-to choice for the highest performance results.
In 2016, the ISSA again recognized Theiss, as the #1 Executive Health and Wellness Consultant among 250,000 fitness and wellness professionals in 93 countries. It is this consistent recognition of the TheissCare method that brings clients to TheissCare, LLC from around the world.
https://theiss.care/wp-content/uploads/2020/02/theisscare-empowering-logo-header-2-300x138.png
0
0
Brian K. Theiss, AA, CFT, MSF, FNBEFE, ISSA PAC
https://theiss.care/wp-content/uploads/2020/02/theisscare-empowering-logo-header-2-300x138.png
Brian K. Theiss, AA, CFT, MSF, FNBEFE, ISSA PAC
2018-07-19 17:06:52
2021-01-17 19:52:52
60 Day Executive Fitness Program Changed Our Lives