60 Day Executive Fitness Program Changed Our Lives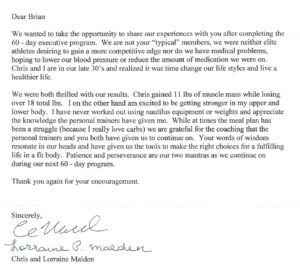 Dear Brian
We wanted to take the opportunity to share our experiences with you after completing the 60 – day executive program.
Time to Change Our Lifestyle
We are not your "typical" members, we were neither elite athletes desiring to gain a more competitive edge nor do we have medical problems, hoping to lower our blood pressure or reduce the amount of medication we were on.
Chris and I are in our late 30's and realized it was time change our lifestyle and live a healthier life.
The Results Were Incredible
We were both thrilled with our results. Chris gained 11 lbs of muscle mass while losing over 18 total lbs.
I on the other hand am excited to be getting stronger in my upper and lower body. I have never worked out using nautilus equipment or weights and appreciate the knowledge the personal trainers have given me.
While at times the meal plan has been a struggle (because I really love carbs) we are grateful for the coaching that the personal trainers and you both have given us to continue on.
A Fulfilling Life in a Fit Body
Your words of wisdom resonate in our heads and have given us the tools to make the right choices for a fulfilling life in a fit body. Patience and perseverance are our two mantras as we continue on during our next 60 – day executive program.
Thank you again for your encouragement.
Sincerely,
Chris and Lorraine
https://theiss.care/wp-content/uploads/2018/07/workout-program-letter-3.jpg
1213
1314
Brian K. Theiss, AA, CFT, MSF, FNBEFE, ISSA PAC
https://theiss.care/wp-content/uploads/2020/02/theisscare-empowering-logo-header-2-300x138.png
Brian K. Theiss, AA, CFT, MSF, FNBEFE, ISSA PAC
2022-07-19 17:06:52
2023-11-14 10:46:35
60 Day Executive Fitness Program Changed Our Lives