Executive Training Program Turned Me Into Fitness Monster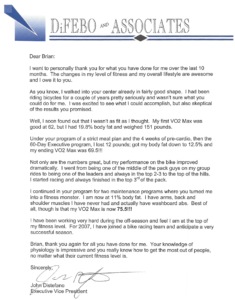 Dear Brian and the TheissCare Executive Training Program team,
I want to personally thank you for what you and your executive training program have done for me over the last 10 months. The changes in my level of fitness and my overall lifestyle are awesome and I owe it to you.
As you know, I walked into your center already in fairly good shape. I had been riding bicycles for a couple of years pretty seriously and wasn't sure what you could do for me. I was excited to see what I could accomplish, but also skeptical of the results you promised.
Well, I soon found out that I wasn't as fit as I thought. My first VO2 Max was good at 62, but I had 19.8% body fat and weighed 151 pounds.
Under your training program of a strict meal plan and the 4 weeks of pre-cardio, then the 60-Day Executive training program, I lost 12 pounds; got my body fat down to 12.5% and my ending VO2 Max was 69.5!!!
Not only are the numbers great, but my performance on the bike improved dramatically. I went from being one of the middle of the pack guys on my group rides to being one of the leaders and always in the top 2-3 to the top of the hills. I started racing and always finished in the top 3rd of the pack.
I continued in your Executive Training Program for two maintenance programs where you turned me into a fitness monster. I am now at 11 % body fat. I have arms, back and shoulder muscles I have never had and actually have washboard abs. Best of all, though is that my VO2 Max is now 75.5!!!
I have been working very hard during the off-season and feel I am at the top of my fitness level.  I have joined a bike racing team and anticipate a very successful season.
Brian, thank you again for all you have done for me. Your knowledge of physiology is impressive and you really know how to get the most out of people, no matter what their current fitness level is.
Sincerely
John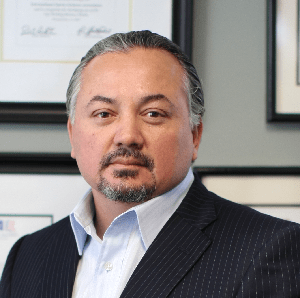 Brian K. Theiss is an innovator and thought leader in the area of performance fitness. He has been an internationally awarded Executive Health and Wellness Consultant since 1987. He has the distinction of being the very first Certified Fitness Trainer by the International Sports Science Association (ISSA).
Brian has trained numerous Fortune 500 executives, professional and elite athletes, and high-profile entertainers. When empowering life's possibilities, Brian is the go-to choice for the highest performance results.
In 2016, the ISSA again recognized Theiss, as the #1 Executive Health and Wellness Consultant among 250,000 fitness and wellness professionals in 93 countries. It is this consistent recognition of the TheissCare method that brings clients to TheissCare, LLC from around the world.
https://theiss.care/wp-content/uploads/2020/02/theisscare-empowering-logo-header-2-300x138.png
0
0
Brian K. Theiss, AA, CFT, MSF, FNBEFE, ISSA PAC
https://theiss.care/wp-content/uploads/2020/02/theisscare-empowering-logo-header-2-300x138.png
Brian K. Theiss, AA, CFT, MSF, FNBEFE, ISSA PAC
2017-10-01 15:36:11
2020-02-26 18:34:26
Executive Training Program Turned Me Into Fitness Monster