I Am A Firefighter Diagnosed With Brain Cancer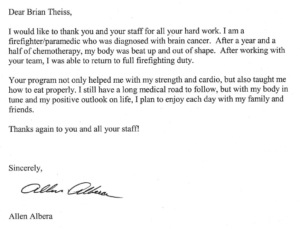 Dear Brian Theiss,
I would like to thank you and your staff for all your hard work. I am a firefighter/paramedic who was diagnosed with brain cancer. After a year and a half of chemotherapy, my body was beat up and out of shape. After working with your team, I was able to return to full firefighting duty.
Your training program not only helped me with my strength and cardio, but also taught me how to eat properly. I still have a long medical road to follow, but with my body in tune and my positive outlook on life, I plan to enjoy each day with my family and friends.
Thanks again to you and all your staff!
Sincerely,
Allen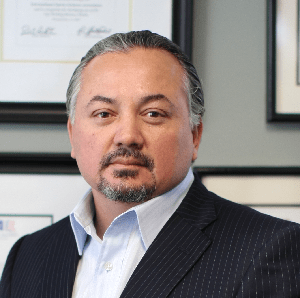 Brian K. Theiss is an innovator and thought leader in the area of performance fitness. He has been an internationally awarded Executive Health and Wellness Consultant since 1987. He has the distinction of being the very first Certified Fitness Trainer by the International Sports Science Association (ISSA).
Brian has trained numerous Fortune 500 executives, professional and elite athletes, and high-profile entertainers. When empowering life's possibilities, Brian is the go-to choice for the highest performance results.
In 2016, the ISSA again recognized Theiss, as the #1 Executive Health and Wellness Consultant among 250,000 fitness and wellness professionals in 93 countries. It is this consistent recognition of the TheissCare method that brings clients to TheissCare, LLC from around the world.
https://theiss.care/wp-content/uploads/2020/02/theisscare-empowering-logo-header-2-300x138.png
0
0
Brian K. Theiss, AA, CFT, MSF, FNBEFE, ISSA PAC
https://theiss.care/wp-content/uploads/2020/02/theisscare-empowering-logo-header-2-300x138.png
Brian K. Theiss, AA, CFT, MSF, FNBEFE, ISSA PAC
2017-12-18 14:22:56
2020-02-26 18:33:51
I Am A Firefighter Diagnosed With Brain Cancer