Help Relieve My Stress After a Long Day at Work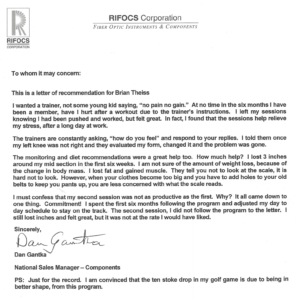 To whom it may concern:
This is a letter of recommendation for Brian Theiss
I wanted a trainer, not some young kid saying, "no pain no gain." At no time in the six months I have been a member, have I hurt after a workout due to the trainer's instructions. I left my sessions knowing I had been pushed and worked, but felt great. In fact, I found that the sessions help relieve my stress, after a long day at work.
The trainers are constantly asking, "how do you feel" and respond to your replies. I told them once my left knee was not right and they evaluated my form, changed it and the problem was gone.
The monitoring and diet recommendations were a great help too. How much help? I lost 3 inches around my mid section in the first six weeks. I am not sure of the amount of weight loss, because of the change in body mass. I lost fat and gained muscle. They tell you not to look at the scale, it is hard not to look. However, when your clothes become too big and you have to add holes to your old belts to keep you pants up, you are less concerned with what the scale reads.
I must confess that my second session was not as productive as the first. Why? It all came down to one thing. Commitment! I spent the first six months following the program and adjusted my day to day schedule to stay on the track. The second session, I did not follow the program to the letter. I still lost inches and felt great, but it was not at the rate I would have liked.
Sincerely,
Dan
PS: Just for the record. I am convinced that the ten stroke drop in my golf game is due to being in better shape, from this program.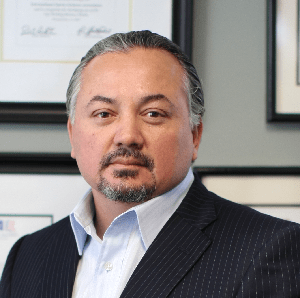 Brian K. Theiss is an innovator and thought leader in the area of performance fitness. He has been an internationally awarded Executive Health and Wellness Consultant since 1987. He has the distinction of being the very first Certified Fitness Trainer by the International Sports Science Association (ISSA).
Brian has trained numerous Fortune 500 executives, professional and elite athletes, and high-profile entertainers. When empowering life's possibilities, Brian is the go-to choice for the highest performance results.
In 2016, the ISSA again recognized Theiss, as the #1 Executive Health and Wellness Consultant among 250,000 fitness and wellness professionals in 93 countries. It is this consistent recognition of the TheissCare method that brings clients to TheissCare, LLC from around the world.
https://theiss.care/wp-content/uploads/2017/11/Theiss-Testimonial3-13.jpg
1545
1543
Brian K. Theiss, AA, CFT, MSF, FNBEFE, ISSA PAC
https://theiss.care/wp-content/uploads/2020/02/theisscare-empowering-logo-header-2-300x138.png
Brian K. Theiss, AA, CFT, MSF, FNBEFE, ISSA PAC
2017-11-24 14:21:04
2020-02-26 18:33:52
Help Relieve My Stress After a Long Day at Work