Impressed with Your Knowledge of Health & Fitness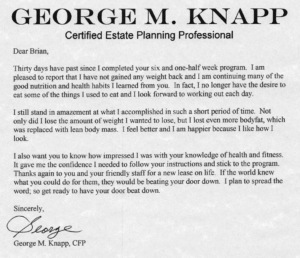 Dear Brian,
Thirty days have past since I completed your six and one-half week training program. I am pleased to report that I have not gained any weight back and I am continuing many of the good nutrition and health habits I learned from you. In fact, I no longer have the desire to eat some of the things I used to eat and I look forward to working out each day.
I still stand in amazement at what I accomplished in such a short period of time. Not only did I lose the amount of weight I wanted to lose, but I lost even more body fat, which was replaced with lean body mass. I feel better and I am happier because I like how I look.
I also want you to know how impressed I was with your knowledge of health and fitness. It gave me the confidence I needed to follow your instructions and stick to the program. Thanks again to you and your friendly staff for a new lease on life. If the world knew what you could do for them, they would be beating your door down. I plan to spread the word; so get ready to have your door beat down.
Sincerely,
George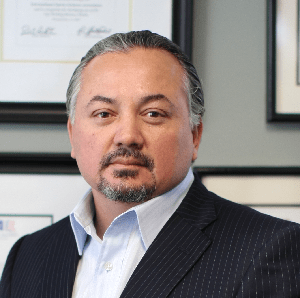 Brian K. Theiss is an innovator and thought leader in the area of performance fitness. He has been an internationally awarded Executive Health and Wellness Consultant since 1987. He has the distinction of being the very first Certified Fitness Trainer by the International Sports Science Association (ISSA).
Brian has trained numerous Fortune 500 executives, professional and elite athletes, and high-profile entertainers. When empowering life's possibilities, Brian is the go-to choice for the highest performance results.
In 2016, the ISSA again recognized Theiss, as the #1 Executive Health and Wellness Consultant among 250,000 fitness and wellness professionals in 93 countries. It is this consistent recognition of the TheissCare method that brings clients to TheissCare, LLC from around the world.
https://theiss.care/wp-content/uploads/2020/02/theisscare-empowering-logo-header-2-300x138.png
0
0
Brian K. Theiss, AA, CFT, MSF, FNBEFE, ISSA PAC
https://theiss.care/wp-content/uploads/2020/02/theisscare-empowering-logo-header-2-300x138.png
Brian K. Theiss, AA, CFT, MSF, FNBEFE, ISSA PAC
2017-05-25 16:00:58
2020-02-26 18:35:07
Impressed with Your Knowledge of Health & Fitness