Physical Fitness is Vital to a Productive & Energetic Life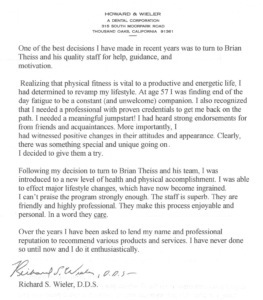 One of the best decisions I have made in recent years was to turn to Brian Theiss and his quality staff for help, guidance, and motivation.
Realizing that physical fitness is vital to a productive and energetic life, I had determined to revamp my lifestyle. At age 57 I was finding end of the day fatigue to be a constant (and unwelcome) companion. I also recognized that I needed a professional with proven credentials to get me back on the path. I needed a meaningful jumpstart! I had heard strong endorsements for from friends and acquaintances. More importantly, I had witnessed positive changes in their attitudes and appearance. Clearly, there was something special and unique going on. I decided to give them a try.
Following my decision to turn to Brian Theiss and his team, I was introduced to a new level of health and physical accomplishment. I was able to effect major lifestyle changes, which have now become ingrained. I can't praise the program strongly enough. The staff is superb. They are friendly and highly professional. They make this process enjoyable and personal. In a word they care.
Over the years I have been asked to lend my name and professional reputation to recommend various products and services. I have never done so until now and I do it enthusiastically.
Richard S. Wieler, D.D.S.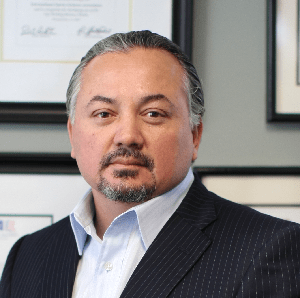 Brian K. Theiss is an innovator and thought leader in the area of performance fitness. He has been an internationally awarded Executive Health and Wellness Consultant since 1987. He has the distinction of being the very first Certified Fitness Trainer by the International Sports Science Association (ISSA).
Brian has trained numerous Fortune 500 executives, professional and elite athletes, and high-profile entertainers. When empowering life's possibilities, Brian is the go-to choice for the highest performance results.
In 2016, the ISSA again recognized Theiss, as the #1 Executive Health and Wellness Consultant among 250,000 fitness and wellness professionals in 93 countries. It is this consistent recognition of the TheissCare method that brings clients to TheissCare, LLC from around the world.
https://theiss.care/wp-content/uploads/2017/11/Theiss-Testimonial3-12.jpg
1525
1339
Brian K. Theiss, AA, CFT, MSF, FNBEFE, ISSA PAC
https://theiss.care/wp-content/uploads/2020/02/theisscare-empowering-logo-header-2-300x138.png
Brian K. Theiss, AA, CFT, MSF, FNBEFE, ISSA PAC
2017-11-24 14:10:54
2020-02-26 18:33:52
Physical Fitness is Vital to a Productive & Energetic Life