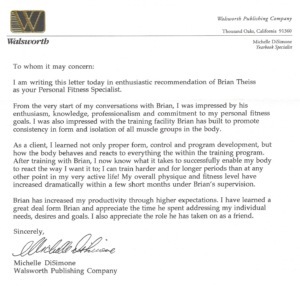 To whom it may concern,
I am writing this letter today in enthusiastic recommendation of Brian Theiss as your Personal Fitness Specialist.
From the very start of my conversations with Brian, I was impressed by his enthusiasm, knowledge, professionalism and commitment to my personal fitness goals. I was also impressed with the training facility Brian has built to promote consistency in form and isolation of all muscle groups in the body.
As a client, I learned not only proper form, control and program development, but how the body behaves and reacts to everything the Within the training program. After training with Brian, I now know what it takes to successfully enable my body to react the way I want it to; I can train harder and for longer periods than at any other point in my very active life! My overall physique and fitness level have increased dramatically within a few short months under Brian's supervision.
Brian has increased my productivity through higher expectations. I have learned a great deal from Brian and appreciate the time he spent addressing my individual needs, desires and goals. I also appreciate the role he has taken on as a friend.
Sincerely,
Michelle