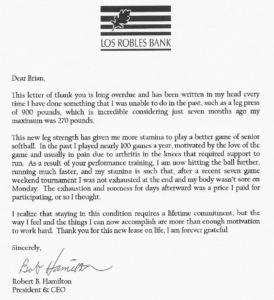 Dear Brian,
This letter of thank you is long overdue and has been written in my head every time I have done something that I was unable to do in the past, such as a leg press of 900 pounds, which is incredible considering just seven months ago my maximum was 270 pounds.
This new leg strength has given me more stamina to play a better game of senior softball. In the past I played nearly 100 games a year, motivated by the love of the game and usually in pain due to arthritis in the knees that required support to run. As a result of your performance training, I am now hitting the ball further, running much faster, and my stamina is such that after a recent seven game weekend tournament I was not exhausted at the end and my body wasn't sore on Monday. The exhaustion and soreness for days afterword was a price I paid for participating, or so I thought.
I realize that staying in the condition requires a lifetime commitment, but the way I feel and the things I can now accomplish are more than enough motivation to work hard. Thank you for this new lease on life, I am forever grateful.
Sincerely,
Robert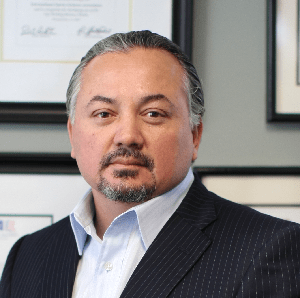 Brian K. Theiss is an innovator and thought leader in the area of performance fitness. He has been an internationally awarded Executive Health and Wellness Consultant since 1987. He has the distinction of being the very first Certified Fitness Trainer by the International Sports Science Association (ISSA).
Brian has trained numerous Fortune 500 executives, professional and elite athletes, and high-profile entertainers. When empowering life's possibilities, Brian is the go-to choice for the highest performance results.
In 2016, the ISSA again recognized Theiss, as the #1 Executive Health and Wellness Consultant among 250,000 fitness and wellness professionals in 93 countries. It is this consistent recognition of the TheissCare method that brings clients to TheissCare, LLC from around the world.
https://theiss.care/wp-content/uploads/2017/06/TheissTestimonial17.jpg
908
830
Brian K. Theiss, AA, CFT, MSF, FNBEFE, ISSA PAC
https://theiss.care/wp-content/uploads/2020/02/theisscare-empowering-logo-header-2-300x138.png
Brian K. Theiss, AA, CFT, MSF, FNBEFE, ISSA PAC
2017-06-01 15:11:18
2020-02-26 18:34:49
More Stamina to Play a Better Game of Senior Softball