More Stamina to Play a Better Game of Senior Softball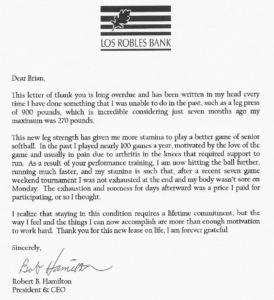 Dear Brian,
This letter of thank you is long overdue and has been written in my head every time I have done something that I was unable to do in the past, such as a leg press of 900 pounds, which is incredible considering just seven months ago my maximum was 270 pounds.
This new leg strength has given me more stamina to play a better game of senior softball. In the past I played nearly 100 games a year, motivated by the love of the game and usually in pain due to arthritis in the knees that required support to run. As a result of your performance training, I am now hitting the ball further, running much faster, and my stamina is such that after a recent seven game weekend tournament I was not exhausted at the end and my body wasn't sore on Monday. The exhaustion and soreness for days afterword was a price I paid for participating, or so I thought.
I realize that staying in the condition requires a lifetime commitment, but the way I feel and the things I can now accomplish are more than enough motivation to work hard. Thank you for this new lease on life, I am forever grateful.
Sincerely,
Robert
https://theiss.care/wp-content/uploads/2017/06/TheissTestimonial17.jpg
908
830
Brian K. Theiss, AA, CFT, MSF, FNBEFE, ISSA PAC
https://theiss.care/wp-content/uploads/2020/02/theisscare-empowering-logo-header-2-300x138.png
Brian K. Theiss, AA, CFT, MSF, FNBEFE, ISSA PAC
2017-06-01 15:11:18
2020-02-26 18:34:49
More Stamina to Play a Better Game of Senior Softball