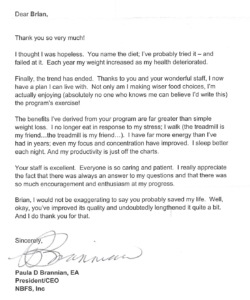 Dear Brian,
Thank you so very much!
I thought I was hopeless. You name the diet; I've probably tried it – and failed at it. Each year my weight increased as my health deteriorated.
Finally, the trend has ended. Thanks to you and your wonderful staff, I now have a plan I can live with. Not only am I making wiser food choices, I'm actually enjoying (absolutely no one who knows me can believe I'd write this) the program's exercise!
The benefits I've derived from your training program are far greater than simple weight loss. I no longer eat in response to my stress; I walk (the treadmill is my friend…the treadmill is my friend…). I have far more energy than I've had in years; even my focus and concentration have improved. I sleep better each night. And my productivity is just off the charts.
Your staff is excellent. Everyone is so caring and patient. I really appreciate the fact that there was always an answer to my questions and that there was so much encouragement and enthusiasm at my progress.
Brian, I would not be exaggerating to say you probably saved my life. Well, okay, you've improved its quality and undoubtedly lengthened my life quite a bit. And I do thank you for that.
Sincerely,
Paula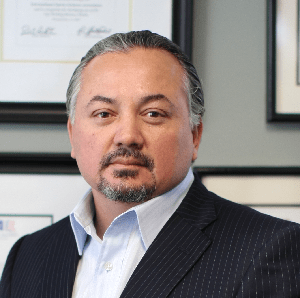 Brian K. Theiss is an innovator and thought leader in the area of performance fitness. He has been an internationally awarded Executive Health and Wellness Consultant since 1987. He has the distinction of being the very first Certified Fitness Trainer by the International Sports Science Association (ISSA).
Brian has trained numerous Fortune 500 executives, professional and elite athletes, and high-profile entertainers. When empowering life's possibilities, Brian is the go-to choice for the highest performance results.
In 2016, the ISSA again recognized Theiss, as the #1 Executive Health and Wellness Consultant among 250,000 fitness and wellness professionals in 93 countries. It is this consistent recognition of the TheissCare method that brings clients to TheissCare, LLC from around the world.
https://theiss.care/wp-content/uploads/2017/08/Theiss-Testimonial-Letters-01-11.jpg
1337
1116
Brian K. Theiss, AA, CFT, MSF, FNBEFE, ISSA PAC
https://theiss.care/wp-content/uploads/2020/02/theisscare-empowering-logo-header-2-300x138.png
Brian K. Theiss, AA, CFT, MSF, FNBEFE, ISSA PAC
2017-08-15 21:12:49
2020-02-26 18:34:29
I Thought I Was Hopeless as My Health Deteriorated