Executive Fitness Program Built for Health and Wellness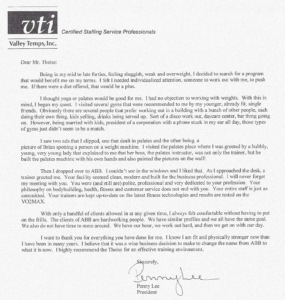 Dear Mr. Theiss:
Being in my mid to late forties, feeling sluggish, weak and overweight, I decided to search for an executive fitness program that would benefit me on my terms. I felt I needed individualized attention, someone to work out with me, to push me. If there were a diet offered, that would be a plus.
The Regular "Gym Life" Didn't Suit Me
I thought yoga or palates would be good for me. I had no objection to working with weights. With this in mind, I began my quest. I visited several gyms that were recommended to me by my younger, already fit, single friends.
Obviously there are several people that prefer working out in a building with a bunch of other people, each doing their own thing, kids yelling, drinks being served up. Sort of a disco work out, daycare center, bar thing going on. However, being married with kids, president of a corporation with a phone stuck in my ear all day, those types of gyms just didn't seem to be a match.
I saw two ads that I clipped, one that dealt in palates and the other being a picture of Brian spotting a person on a weight machine. I visited the palates place where I was greeted by a bubbly, young, very young lady that explained to me that her boss, the palates instructor, was not only the trainer, but he built the palates machine with his own hands and also painted the pictures on the wall!
A Program that Specializes in Executive Health and Fitness
Then I dropped over to check out the executive fitness program at TheissCare. I couldn't see in the windows and I liked that. As I approached the desk, a trainer greeted me. Your facility seemed clean, modem and built for the business professional.
I will never forget my meeting with you. You were (and still are) polite, professional and very dedicated to your profession. Your philosophy on bodybuilding, health, fitness and customer service does not end with you. Your entire staff is just as committed.
Your trainers are kept up-to-date on the latest fitness technologies and results are tested on the VO2MAX.
Health, Fitness and Privacy for the Executive on the Go
With only a handful of clients allowed in at any given time, I always felt comfortable without having to put on the frills.
The clients of the executive health and fitness program at TheissCare are hardworking people. We have similar profiles and we all have the same goal. We also do not have time to mess around. We have our hour, we work out hard, and then we get on with our day.
I want to thank you for everything you have done for me. I know I am fit and physically stronger now than I have been in many years. I believe that it was a wise business decision to make to change the name from ABB to what it is now.
I highly recommend TheissCare to any executive looking for an effective training environment.
Sincerely,
Penny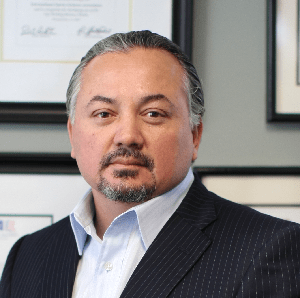 Brian K. Theiss is an innovator and thought leader in the area of performance fitness. He has been an internationally awarded Executive Health and Wellness Consultant since 1987. He has the distinction of being the very first Certified Fitness Trainer by the International Sports Science Association (ISSA).
Brian has trained numerous Fortune 500 executives, professional and elite athletes, and high-profile entertainers. When empowering life's possibilities, Brian is the go-to choice for the highest performance results.
In 2016, the ISSA again recognized Theiss, as the #1 Executive Health and Wellness Consultant among 250,000 fitness and wellness professionals in 93 countries. It is this consistent recognition of the TheissCare method that brings clients to TheissCare, LLC from around the world.
https://theiss.care/wp-content/uploads/2020/02/theisscare-empowering-logo-header-2-300x138.png
0
0
Brian K. Theiss, AA, CFT, MSF, FNBEFE, ISSA PAC
https://theiss.care/wp-content/uploads/2020/02/theisscare-empowering-logo-header-2-300x138.png
Brian K. Theiss, AA, CFT, MSF, FNBEFE, ISSA PAC
2018-07-13 15:51:26
2021-01-18 17:57:45
Executive Fitness Program Built for Health and Wellness