Training Program to Improve Life & Overall Health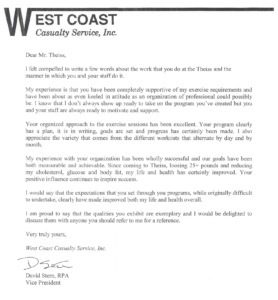 Dear Mr. Theiss,
I felt compelled to write a few words about the work that you do at TheissCare and the manner in which you and your staff do it.
My experience is that you have been completely supportive of my exercise requirements and have been about as even keeled in attitude as an organization of professional could possibly be. I know that I don't always show up ready to take on the training program you've created but you and your staff are always ready to motivate and support.
Your organized approach to the exercise sessions has been excellent. Your training program clearly has a plan, it is in writing, goals are set and progress has certainly been made. I also appreciate the variety that comes from the different workouts that alternate by day and by month.
My experience with your organization has been wholly successful and our goals have been both measurable and achievable. Since coming to TheissCare, losing 25+ pounds and reducing my cholesterol, glucose and body fat, my life and health has certainly improved. Your positive influence continues to inspire success.
I would say that the expectations that you set through your training programs, while originally difficult to undertake, clearly have improved both my life and health overall.
I am proud to say that the qualities you exhibit are exemplary and I would be delighted to discuss them with anyone you should refer to me for a reference.
Very truly yours,
David
https://theiss.care/wp-content/uploads/2017/10/Theiss-Testimonial3-24.jpg
1668
1543
Brian K. Theiss, AA, CFT, MSF, FNBEFE, ISSA PAC
https://theiss.care/wp-content/uploads/2020/02/theisscare-empowering-logo-header-2-300x138.png
Brian K. Theiss, AA, CFT, MSF, FNBEFE, ISSA PAC
2017-10-01 15:50:11
2020-02-26 18:34:26
Training Program to Improve Life & Overall Health