Brian's Training Program is Extremely Safe & Effective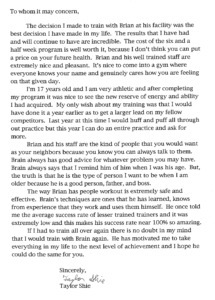 To whom it may concern,
The decision I made to train and workout with Brian at his facility was the best decision I have made in my life. The results that I have had and will continue to have are incredible. The cost of the six and a half week training program is well worth it, because I don't think you can put a price on your future health. Brian and his well trained staff are extremely nice and pleasant. It's nice to come into a gym where everyone knows your name and genuinely cares how you are feeling on that given day.
I'm 17 years old and I am very athletic and after completing my training program it was nice to see the new reserve of energy and ability I had acquired. My only wish about my training was that I would have done it a year earlier as to get a larger lead on my fellow competitors. Last year at this time I would huff and puff all through out practice but this year I can do an entire practice and ask for more.
Brian and his staff are the kind of people that you would want as your neighbors because you know you can always talk to them. Brain always has good advice for whatever problem you may have. Brain always says that I remind him of him when I was his age. But, the truth is that he is the type of person I want to be when I am older because he is a good person, father, and boss.
The way Brian has people workout is extremely safe and effective. Brain's techniques are ones that he has learned, knows from experience that they work and uses them himself. He once told me the average success rate of lesser trained trainers and it was extremely low and this makes his success rate near 100% so amazing.
If I had to train all over again there is no doubt in my mind that I would train with Brain again. He has motivated me to take everything in my life to the next level of achievement and I hope he could do the same for you.
Sincerely,
Taylor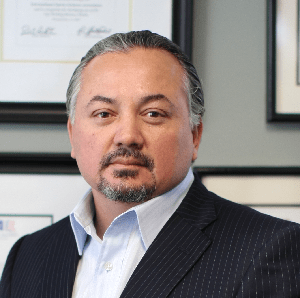 Brian K. Theiss is an innovator and thought leader in the area of performance fitness. He has been an internationally awarded Executive Health and Wellness Consultant since 1987. He has the distinction of being the very first Certified Fitness Trainer by the International Sports Science Association (ISSA).
Brian has trained numerous Fortune 500 executives, professional and elite athletes, and high-profile entertainers. When empowering life's possibilities, Brian is the go-to choice for the highest performance results.
In 2016, the ISSA again recognized Theiss, as the #1 Executive Health and Wellness Consultant among 250,000 fitness and wellness professionals in 93 countries. It is this consistent recognition of the TheissCare method that brings clients to TheissCare, LLC from around the world.
https://theiss.care/wp-content/uploads/2017/09/Theiss-Testimonial-1-scaled.jpg
2560
1836
Brian K. Theiss, AA, CFT, MSF, FNBEFE, ISSA PAC
https://theiss.care/wp-content/uploads/2020/02/theisscare-empowering-logo-header-2-300x138.png
Brian K. Theiss, AA, CFT, MSF, FNBEFE, ISSA PAC
2017-09-26 19:15:25
2020-02-26 18:34:27
Brian's Training Program is Extremely Safe & Effective