TheissCare Director of Operations –

Kevin Quinlivan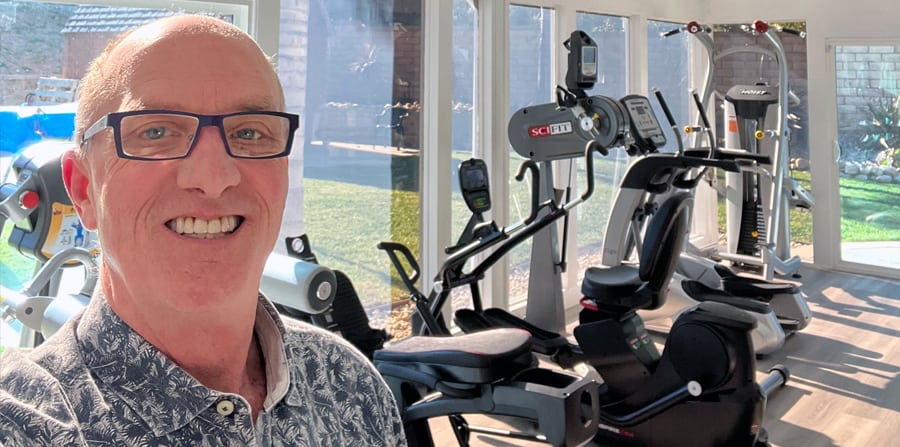 Kevin Quinlivan

, CPT, ISSA PAC
Director of Operations / Executive Health & Wellness Consultant, TheissCare, LLC • kevin@theiss.care • 952-356-5662
About Kevin:
Kevin joined the TheissCare team after experiencing for himself the science based life saving results the founder of TheissCare, Brian Theiss, has been providing his clients for 4 decades.
In October of 2020, Kevin get on an elliptical for the first time in his life. 20 seconds later, Brian immediately stopped him. Kevin's heart rate had increased to dangerous levels. Kevin was on the verge of being taken to the hospital.
Instead, a month later, Kevin had gone through a complete physical transformation. "Brian did for me what I couldn't do for myself, says Kevin. "Brian provided a program of change, not only of lifestyle, but of thought processes in regards to reversing the aging process and the disease process in a number of predetermined physical dispositions that can ultimately lead to premature death".
Today, Kevin has the heart rate of a 30 year old. What he has learned being part of the TheissCare program he now shares with others.
"We give people a new direction, a new opportunity to transforms their lives by reversing the premature aging process. They begin to feel better, become more productive, their mental clarity returns and the realization that they can have the stamina of a 35-year-old again in their 50s, 60s and 70s is quite the motivator.
To be able to change and save lives through health and wellness is immensely gratifying. There's a saying out there, if you don't take time for your health, your health will take time from you and it ain't going to be pretty. At TheissCare, we want to eliminate that for people. We want them to enjoy their families, enjoy their work, enjoy their retirement, enjoy the things they love, doing all of this well into their latter years."
Positions:
TheissCare, LLC Executive Health, Fitness & Consulting
Director of Operations. The ability to create value providing the very best product and service for every client by fine-tuning the processes and procedures to efficiently increase ROI that continue to provide the ultimate and sustainable results for the client experience.
Starkey Foundation
Sales Account Executive at Starkey Hearing Technologies, Eden Prairie, MN
Education:
University of MN – Duluth,MN Campus
Accounting, Finance, Business focus
St Cloud State University – St Cloud, MN
Public Administration, Business Case Law
Bachelors Degree – Elective Studies
Certified Personal Trainer (1)
International Sports Sciences Association
Mastery of Experience:
Sales
Management
Multi-location management
P/L management
Accounting/Finance
Operations and Analysis
Global perspective
Software Development
Super User for CRM system
Non-profit – International Field Materials/In-Country Logistics Manager
Awards:
District Branch of the Quarter
841 branches and Kevin achieved this award for 3 consecutive years. This was the the first time in the history of the company a single branch had won this award multiple times.
Sales Rep of the Year Award (Twice)
Sales Account Executive at Starkey Hearing Technologies, Eden Prairie, MN
"Leading with your Heart" Award
Sales Account Executive at Starkey Hearing Technologies, Eden Prairie, MN
Most Memorable Achievement:
There was a branch that was going to miss its budgeted sales by 50% for the year. Kevin was reassigned to that branch in the 5th month of that fiscal year to turn things around. 7 months later, Kevin and the team exceeded the budgeted sales of 1.2 million.
Giving Back:
Volunteer for the Starkey Hearing Foundation
Giving the gift of hearing in Rwanda and Uganda. Training others how to fit hearing aids to give the gift of hearing to the less fortunate around the world. I helped with problematic fittings that needed more detail to ensure a completely satisfied recipient. Why me? Why not me I always say. There was personal satisfaction helping the guest "fitters" and donors to be successful with each fitting and guiding those fitters and donors to ensure they had an incredible experience and that the hearing aid recipients were each hearing their very best for their individual circumstances.
JESO (Joy Elderly Social Organization)
Co-Founder and current Board of Director. Founded in 2014, in Kampala, Uganda.
Donor
Starkey Hearing Foundation – 2004 to 2015.
JESO – 2014 to present.
When not Saving and Changing Lives at TheissCare…
You can find Kevin spending time with his family and four grandsons: on the Gulf Coast of Florida with his mom in the winter months, in the Mountains of Summit County Colorado, the North and South Shore of Lake Superior, and walking the beaches in Santa Monica and Malibu, California.