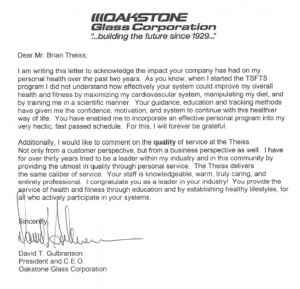 Dear Mr. Brian Theiss,
I am writing this letter to acknowledge the impact your company has had on my personal health over the past two years. As you know, when I started the TSFTS program I did not understand how effectively your system could improve my overall health and fitness by maximizing my cardiovascular system, manipulating my diet, and by training me in a scientific manner. Your guidance, education and tracking methods have given me the confidence, motivation, and system to continue with this healthier way of life. You have enabled me to incorporate an effective personal program into my very hectic, fast passed schedule. For this, I will forever be grateful.
Additionally, I would like to comment on the quality of service at TheissCare. Not only from a customer perspective, but from a business perspective as well. I have for over thirty years tried to be a leader within my industry and in this community by providing the utmost in quality through personal service. TheissCare delivers the same caliber of service. Your staff is knowledgeable, warm, truly caring, and entirely professional. I congratulate you as a leader in your industry! You provide the service of health and fitness through education and by establishing healthy lifestyles, for all who actively participate in your systems.
David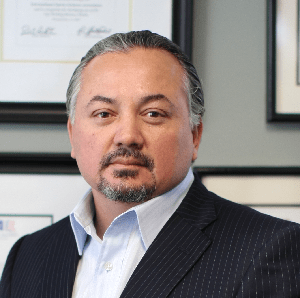 Brian K. Theiss is an innovator and thought leader in the area of performance fitness. He has been an internationally awarded Executive Health and Wellness Consultant since 1987. He has the distinction of being the very first Certified Fitness Trainer by the International Sports Science Association (ISSA).
Brian has trained numerous Fortune 500 executives, professional and elite athletes, and high-profile entertainers. When empowering life's possibilities, Brian is the go-to choice for the highest performance results.
In 2016, the ISSA again recognized Theiss, as the #1 Executive Health and Wellness Consultant among 250,000 fitness and wellness professionals in 93 countries. It is this consistent recognition of the TheissCare method that brings clients to TheissCare, LLC from around the world.
https://theiss.care/wp-content/uploads/2017/11/Theiss-Testimonial3-15.jpg
1396
1447
Brian K. Theiss, AA, CFT, MSF, FNBEFE, ISSA PAC
https://theiss.care/wp-content/uploads/2020/02/theisscare-empowering-logo-header-2-300x138.png
Brian K. Theiss, AA, CFT, MSF, FNBEFE, ISSA PAC
2017-11-26 15:48:18
2020-02-26 18:33:51
Confidence, Motivation, & System for Healthier Way of Life